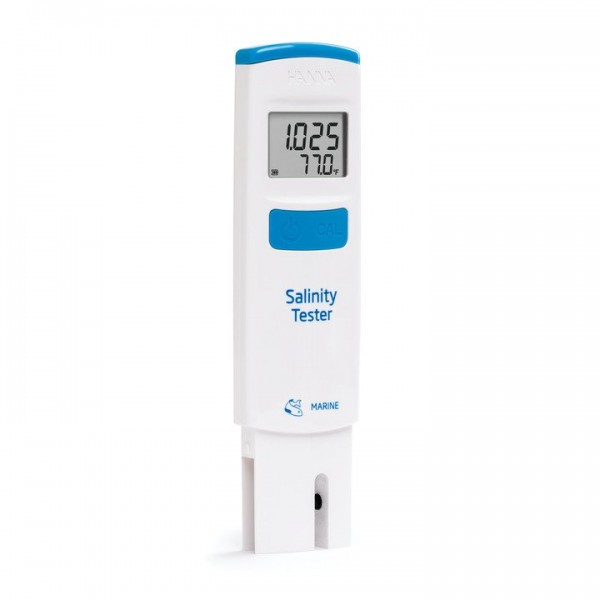 Order number:

HI98319

Artikelgewicht

0.13 kg

Abmaße (inkl. Verpackung):

213 mm x 68 mm x 34 mm

EAN-Code:

Sperrgut:

Nein

Speditionsversand

Nein
Produktinformationen "HI98319 Salinitätstester speziell für Meerwasseraquarien" Der neue...
more
Product information "Conductivity Tester, for Ocean water - Hanna HI98319"
Produktinformationen "HI98319 Salinitätstester speziell für Meerwasseraquarien"
Der neue digitale Salinitätstester HI98319 wurde speziell für Messungen in Meerwasseraquarien entwickelt. Salinität ist vereinfacht ausgedrückt der Salzgehalt in Wasser, daher ist die Bestimmung der Salinität in Meerwasseraquarien selbstverständlich besonders wichtig. Der Tester zeigt die Werte in ppt (Parts per Thousand), PSU (practical Salinity Units) oder in S.G. (specific gravity) an. Durch das große Multilevel-Display kann eine der genannten Einheiten gleichzeitig mit der gemessenen Temperatur in °C oder °F angezeigt werden. Außerdem können im LCD auch Stabilitätsfaktor und Kalibrierstatus abgelesen werden. Beim Einschalten zeigt der Tester den aktuellen Batteriestand an.
Der wasserdichte Tester verwendet eine festverbaute amperometrische Graphit-Leitfähigkeitssonde um die Salinität bis zu 70,00ppt im Wasser zu bestimmen, durch den eingebauten Temperatursensor werden die Werte automatisch temperaturkompensiert. Die amperometrische Graphit-Sonde widersteht der Oxidation und schafft so besser reproduzierbare Messwerte und ist nicht so anfällig für den Polarisationseffekt wie Tester die zwei Edelstahl-Stifte verwenden.
Das moderne und wasserdichte Gehäuse macht den Tester nicht nur optisch attraktiv für Anwendungen in der Aquaristik, man muss sich auch keine Sorgen machen, falls der Tester doch mal ins Aquarium fällt. Die Bedienung ist super einfach und erfolgt über lediglich zwei Knöpfe, einer zum Ein- und Ausschalten und der zweite für die Kalibrierung. Die Kalibrierung erfolgt per Knopfdruck mit einem Standard-Wert von 35,00ppt, sobald die Kalibrierung erfolgt ist, kehrt der Tester in den Messmodus zurück. Der Tester verfügt außerdem über einen Setup-Modus im Batteriefach, worüber zum Beispiel die automatische Abschaltung zwischen 8 und 60 Minuten bzw. deaktiviert eingestellt werden kann. Durch die automatische Abschaltung kann die Batterie geschont werden. Die mitgelieferten Batterien gewähren eine Lebensdauer von ca. 100 Betriebsstunden.
Lieferumfang: HI98319 wird in einer praktischen Plastikbox inklusive 35ppt-Kalibrierbeutelchen, Batterien und Bedienungsanleitung geliefert.
Technische Daten:
| | |
| --- | --- |
| Messbereich: | 1000 bis 1041 S.G., 0,0 bis 70,0 ppt (g/L), 0,0 bis 70,0 PSU |
| Auflösung: | 0,1 ppt (g/L), 0,1 PSU, 0,001 |
| Genauigkeit @25°C: | ±1 PSU für 0,0 bis 40,0 PSU ±2 PSU für Werte über 40,0 PSU, ±0,001 S.G., ±1 ppt für 0,0 bis 40,0 ppt ±2 ppt für Werte über 40,0 ppt |
| Temperatur-Messbereich: | 0,0 bis 50,0 °C |
| Temperatur-Auflösung: | 0,1 °C |
| Temperatur-Genauigkeit: | ±0,5 °C |
| Methoden: | S.G. - Standard Methode für die Untersuchung von Wasser und Abwasser, 2510 C, Methode für die Dichte, PSU – Standard Methode für die Untersuchung von Wasser und Abwasser, 2510 B, Methode für die elektrische Leitfähigkeit, ppt – Internationale ozeanographische Tabellen |
| Kalibrierung: | Automatisch, 1-Punkt bei 35ppt |
| Temperaturkompensation: | Automatisch von 5,0 bis 50,0°C |
| Umgebungsbedingungen: | 0 bis 50 °C, rel. Luftfeuchtigkeit max 100 % |
| Batterietyp: | CR2032 3V Lithium |
| Batterielebensdauer: | Ca. 100 Stunden kontinuierlicher Einsatz |
| Maße: | 160 mm x 40 mm x 17 mm |
| Gewicht: | 68g (ohne Batterie) |
Tips & Tricks
Im Lieferumfang dieses Gerätes sind 4 Beutelchen 35,00 ppt Kalibrierlösung enthalten. Mit der Artikelnummer HI70024P können Sie die Kalibrierlösung in einer Einheit von 25x20mL-Beutel nachbestellen. Wir empfehlen Ihnen, mindestens 1x im Monat oder vor jeder Messung eine Kalibrierung durchzuführen. Unsere Kalibrierbeutelchen wurden speziell für die Kalibrierung von Testern entwickelt. Im Normalfall können Sie einen Tester einfach in das Beutelchen halten und so die Kalibrierung durchführen. Für dieses Gerät raten wir Ihnen aber dringend davon ab.
Bei der Suche nach der Problemursache ist uns aufgefallen, dass der Tester anfällig für Luftblasen ist. Je größer die Luftblase, desto geringer wird der gemessene Wert. Ein zu geringer Wert bei der Kalibrierung beeinflusst Ihre späteren Messwerte.
Die Lösung dieses Problems ist zum Glück sehr einfach: Verwenden Sie für die Kalibrierung immer ein durchsichtiges Becherglas und geben Sie den gesamten Inhalt des 20-mL-Beutels hinein. Dank des durchsichtigen Glases können Sie im Gegensatz zu den blickdichten Beuteln überprüfen, ob der Sensorbereich des Testers frei von Luftbläschen ist. Dasselbe gilt natürlich auch für Ihre Messproben.
Sollten Sie Luftblasen entdecken, entfernen Sie diese durch Anpusten, dadurch sollten die Luftblasen verschwinden und die Werte steigen wieder an.
Haben Sie weitere Probleme bei diesem oder einem anderen Gerät entdeckt? Dann lassen Sie es uns unbedingt wissen.
Related links to "Conductivity Tester, for Ocean water - Hanna HI98319"
Read, write and discuss reviews...
more
Customer evaluation for "Conductivity Tester, for Ocean water - Hanna HI98319"
Write an evaluation
Evaluations will be activated after verification.