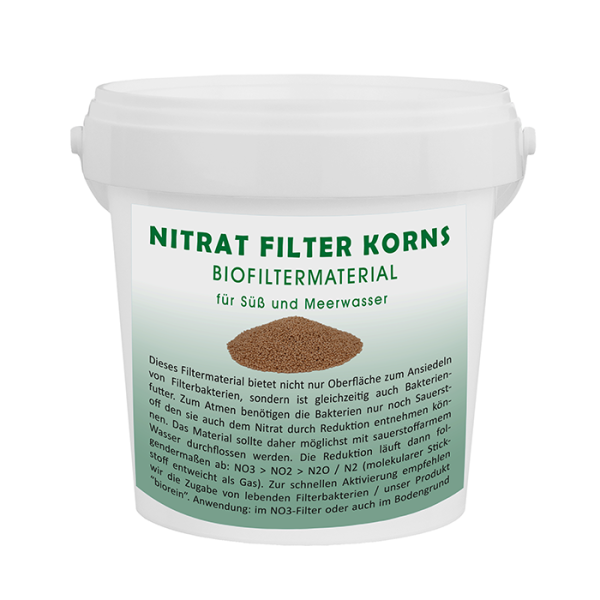 Order number:

S00402

Artikelgewicht

0.79 kg

Abmaße (inkl. Verpackung):

130 mm x 140 mm x 140 mm

EAN-Code:

4260223812408

Sperrgut:

Nein

Speditionsversand

Nein
for fresh- and salt water size app.4mm - corns supports biological cleaning with...
more
Product information "Nitrat-FilterKorns"
for fresh- and salt water
size app.4mm - corns
supports biological cleaning with fakultativ anaerobe mikroorganism
for easy use we recommend our "empty filter 10Liter" or bigger
This filter material is home and food for bacterias.
They only need oxygen to breath. With their ability to break nitrate into its components nitrogen(N) and oxygen(O) this need is covered.
To make sure that nitrate is used, oxygen should be of low value in the water (slow flow recommended).
The reduktion will take place as following: NO3 > NO2 > N2O / N2 (nitrogen will be removed to the atmosphere).
For fast activating we recommend our living filter bacterias / our product "biorein".
Info: You can test the quality of your filter material very easy. Take a glas or bottle with opener, fill it half with the filter material and then fill it up with nitrate polluted aquarium water. Make sure that no air remains before you close it.
The few bacterias in the water find an environment of low oxygene. Good filter material can now be colonised by the organisms and also used as a sorce of food. In the first week there will be no effect because in order to eliminate bigger amounts of nitrate the quantity of bacterias need to expand.
We got the following results with our Nitrat-FilterKorns: Test with fresh water app.23°C, 50mg/l Nitrate at beginning, after 7days: 20mg/l Nitrate, after 8days: 0mg/l Nitrate !!!
We tested several filter materials and are convinced of the effectiveness of our product NitratFilterKorns !

Related links to "Nitrat-FilterKorns"
Read, write and discuss reviews...
more
Customer evaluation for "Nitrat-FilterKorns"
Write an evaluation
Evaluations will be activated after verification.